Improve Your Reporting Skills
Earn more than 150 AMA PRA Category 1 Credits™ or European CME Credits (ECMEC®)
​
More than 150 accredited and interactive online courses
​
Thousands of peer-reviewed cases hand-picked by experienced specialists
​
The most authentic training experience - based on real DICOM images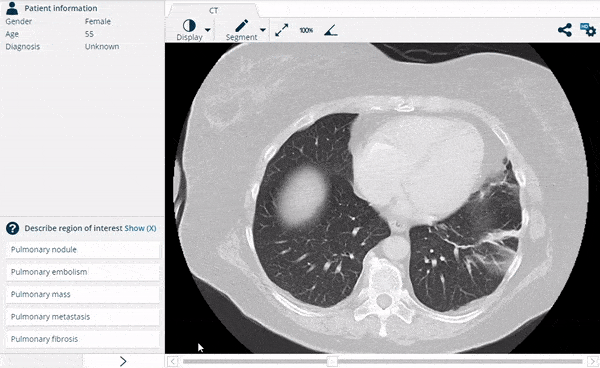 eScan Academy is a premium online continuing education resource for radiologists to expand their expertise, read a wide variety of cases and become a more accurate, confident and efficient reader.
Practical courses in key
areas of radiology
Neuro radiology (CT), breast radiology (mammography), chest radiology (anatomy, X-ray, CT), gastrointestinal and abdominal radiology (anatomy, CT renal stone, CT abdomen), musculoskeletal radiology (MSK anatomy, elbow, foot/ankle, hand/wrist, knee, pelvis/hip/spine, shoulder).
Get unlimited access and CME
More than 4,000 medical specialists use eScan Academy to improve their reporting skills. They have completed more than 5,000 CME courses in 2021 alone.
$ 249 paid upfront.
Renews automatically. Cancel anytime.
We offer all new customers a 7-day money back guarantee.
If you for whatever reason are not satisfied with your subscription, we will provide a full refund within 7 days from purchase. No questions asked.
We offer significant group discounts for groups, institutions, departments, and residency programs Learn more.
Only available in some countries.
See anyone you know? These authors have carefully built eScan Academy.
Lars Edenbrandt (Gothenburg, Sweden)
Lars ​Edenbrandt is Professor in Nuclear Medicine at Gothenburg University, Sweden. He has extensive experience in clinical research and has worked in the field of computer-analysis of diagnostic images for more than 25 years.
He has published more than 100 papers in peer reviewed scientific journals and been the main tutor to six Ph.D. students. He has enriched eScan Academy with courses on bone scintigraphy, myocardial perfusion scintigraphy, lung scintigraphy and more.
eScan Academy is accredited by the EACCME with 150+ CME credits. Through a mutual recognition procedure, European CME Credits (ECMEC®) can be transferred to AMA PRA Category 1 Credits™.
About us
eScan Academy is a premium online continuing education resource for radiologists and nuclear medicine specialists.